Make Any Day Payday.
Sekady makes Subcontractor payments fast, easy, and secure to help you improve your cash flow.
Stop waiting to get paid!
Get your money deposited with free direct deposit.
You don't have to waste time chasing down your paycheck. Register on the Sekady platform and start getting paid faster!
Get paid by the next business day with QuickPay.
Once your invoice is approved, you will receive an email to schedule your payment date. From there you may choose standard terms or QuickPay (for an additional fee).
Bank-grade security.
Payments to Subcontractors and Vendors are made securely with Sekady's top-level security and SOC2-approved adherence policies.
We'll do the heavy lifting.
We will help you every step of the way! Call our support team at 208.452.1910 or start registration yourself here.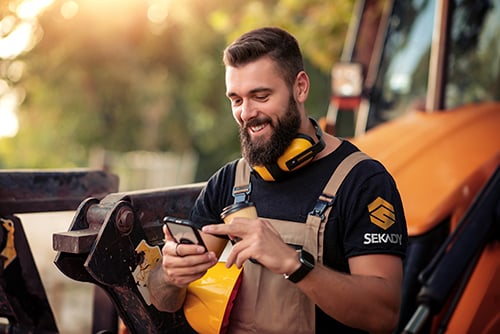 Tired of waiting to get paid?
Stop chasing paper checks and get paid with free ACH direct deposit.
Get secure ACH direct deposit payments with the option for QuickPay - which gets you paid by the next business day for a small fee.
Stop using your lunch break to chase down a check from Title, Lender, or Builder.
Reduce back-and-forth emails, phone calls, and wasted time.
Tell your Builder to pay you through Sekady! Ask us about our referral program.
"We feel so grateful to be part of the Sekady Family. Not only has Sekady helped us grow our business exponentially they have helped eliminate many of the common "growing pains" for businesses. I love the online platform, as well as, the ability to manage our business right from the job site on the mobile app."