Draw Management that's quick on the draw.
Provide complete visibility and keep all your customers happy with construction draw management for Title Companies. Take a quick tour!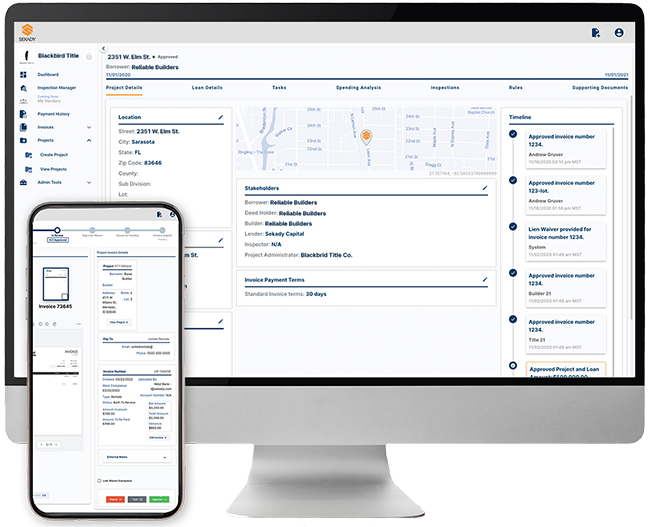 Maximize productivity without increasing headcount.
Boost profits, not problems.
Provide complete draw and budget visibility to both Lenders and Borrowers.
Mitigate human error due to manual data entry and outdated draw methods.
Reduce back-and-forth emails, phone calls, and wasted time with integrated inspection reports and lien waivers.
Let us show you how we can help you increase project velocity and visibility with draw management for Title Companies.
Slow draws make slow projects.
Are your manual draw processes slowing your customers' projects down?
Keeping projects moving is key to you and your customers' profitability. Time-consuming draw processes are full of potential for human error and can ultimately cause project delays and getting fund disbursements to the Borrower.
Complete visibility for your customers.
Once draws are approved, funds are securely disbursed through the platform with complete visibility for your customers.
Turn hours of draw request processing into minutes.
Spreadsheets, unattached files, and non-matching invoices create project delays. Draw requests made within Sekady's draw manager are delivered to you with lien waivers, invoices, and inspection reports included - ready for you to recommend or reject approvals.
Decrease draw turnaround time.
Cut down on wasted time from unnecessary email back-and-forth and phone calls.
"We feel so grateful to be part of the Sekady Family. Not only has Sekady helped us grow our business exponentially they have helped eliminate many of the common "growing pains" for businesses. I love the online platform, as well as, the ability to manage our business right from the job site on the mobile app."